I have one final incredible upgrade series to offer you ... at a truly astonishing discount.

Let me warn you that this is a ONE TIME ONLY offer and will not be repeated. You will never see this offer ever again after you leave this page, so take advantage of it right now.

Ultimate Mindset Upgrade System
Premium Video Training (with full transcripts)
Worth: $147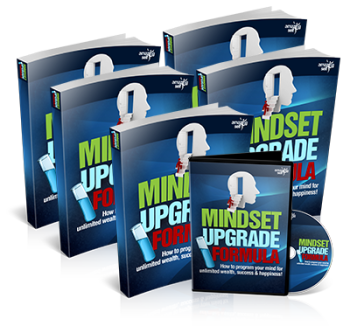 *Image is for representation only.
A complete premium video personal development program with personal development expert and internationally renowned wealth coach and multi-millionaire Mark Ling.
You will discover... 
Here's EXACTLY how to completely upgrade your mind to accelerate your results up to 800% faster than ordinary people (this is perfect if you don't have a lot of spare time and need results QUICK) 
Did you know that all millionaires follow a specific millionaire

blueprint

? Here are the proven, tested key principles to millionaire success that you

MUST

follow to live a life of wealth and abundance

(Mark walks you through each step with pinpoint accuracy and answers ALL your questions as he goes - no stone left unturned)

 
How to literally 'infect' your mind with a 'success bug', to completely reprogram your every thought and FORCE your brain to create wealth ... without even thinking about it 
How to literally FORCE your mind to raise your internal 'wealth thermostat' (do this and wealth will come rushing into your life like dustballs rushing into a vacuum)
 And much, much more ...
This
premium advanced video training
is worth $147, but just for this one time only, I'm going to give it to you for an extremely low price of just $19.95
That's a massive $127.05 OFF!
YES!
I definitely want to take advantage of this one time only HUGE discount offer. Please add the above course to my order for a one time only payment of just $19.95.
(These courses will automatically be added to your current order)
P.S. Remember, you're completely protected by my ironclad, no-questions 100% 60-day money-back guarantee. If for any reason you are not happy with the programs, then I'll promptly refund your purchase and you can keep all the stuff anyway!
There's really no way you can lose. I promise that you're going to LOVE it!
Warning: If you leave this page, you might never see this offer again and will miss out on your one and only chance with this amazing discount opportunity.
WARNING: DO NOT CLICK THIS BUTTON
UNLESS YOU WANT TO GIVE UP THIS OFFER FOREVER